8pcs crystal rainblow color plstic handle synthetic hair cosmetic makeup brush set
8pcs crystal rainblow color plstic handle synthetic hair cosmetic makeup brush set
Spec
Brush Material:Synthetic Hair
Style:Angular Blush,Fan Brush,Flat brush,Smudge Brush
Used With:Blusher,Concealer,Eye Shadow,Eyebrow Pencil,Eyeliner,Foundation,Lip Balm,Lip Gloss,Lip Liner,Lipstick,Mascara ,Shaving Brush
Brush Material:Synthetic Hair
Brand Name:OEM/ODM
Handle Material:Plastic
Used With:Lip Liner, CONCEALER, BLUSHER, Lip Gloss, Eyebrow Pencil, E
MOQ:3000sets
Color:Customized Color
Use:Face
Items Per Set:8pcs
Style:Angular Blush, Smudge Brush, Flat Brush
Logo:Private Label Acceptable
Packaging Details:OPP bag
Key Features
8pcs crystle handle synthetic hair cosmetic makeup brush set
HAIR: synthetic hair
Handle: plastic
Packing:OPP Bag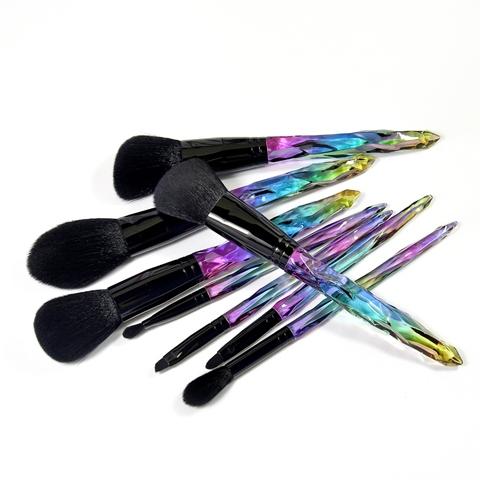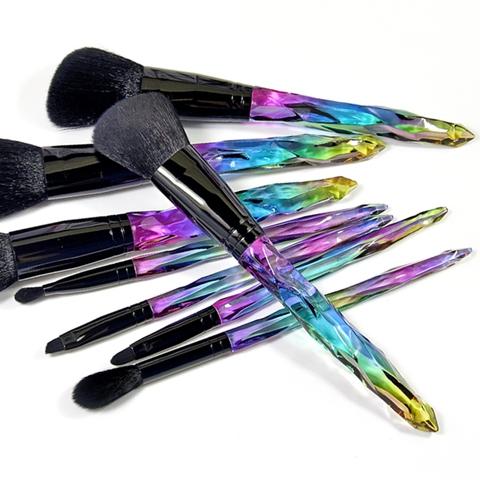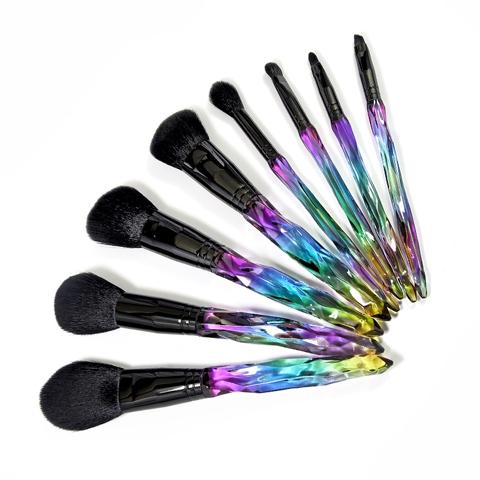 To clean makeup brushes
You probably know
which brushes
to use for contouring and which to for concealing. But do you know that you should be cleaning your makeup brushes? Washing
your makeup brushes
should be a regular part of your beauty routine. When you use your brushes, bits of makeup, oil, dirt, and even bacteria can get trapped in the bristles. So while it might seem basic, skipping this step can lead to clogged pores and pesky breakouts. Not to mention the fact that quality makeup brushes can be expensive. So learning how to properly clean them is one of the best ways to protect your investment.
Luckily, cleaning your makeup brushes is quick and easy. The first step to keeping your brushes clean is picking up a daily brush cleaner and spritzing it on your brushes after each use. Once a week, it's time for a deep cleaning. (Note that your brushes will need a few hours to dry after a deep cleaning, so I'd recommend washing them after you've applied your makeup that day.)
Here's the right way to deep clean your makeup brushes…
You will need:
• A shallow bowl
• Gentle clarifying shampoo or baby shampoo
• Your sink
• A lint free cloth
Instructions:
Begin by running your brushes under lukewarm water, rinsing out all of the residual makeup. Try to focus on the actual bristles while avoiding the part of the brush where handle meets the head, as this can loosen the glue over time
Fill a bowl with lukewarm water and a squirt of shampoo, and gently swirl your brush tip in the water. If you need to, you can also swirl the brush in the palm of your hand to work up a lather.
Rinse the brush tip under running water once again. Repeat steps two and three until the water runs clear from the brush,
Use a cloth to wipe your brush clean, reshaping the bristles as you go.
Lay your brushes flat on a cloth to dry.
And there you have it! Your makeup brushes will be as clean a whistle. It's also worth mentioning that there are specially formulated brush shampoos on the market. A gentle clarifying or baby shampoo will do the trick just fine though.
Are your brushes in need of a cleaning?
Be sure to pin this post so that you'll remember how to properly wash them.
We are famous and major manufacturing & marketing company in professional makeup brushes and senior art brushes in Taiwan. Artam Enterprise is commissioned to produce brushes for domestic and international renowned companies. Our products not only enter into the school system, but also serve companies or tutorial association providing the best quality and the most favorable price. We have won high appreciation and loyalty from the customers that we serve over the years. Artam has also successfully branded cosmetic accessories and art brushes such as Youngly, Artam, O'ICHE, and Pure Color across home and abroad.
If you have further questions or problems, please feel free to contact us by the following information.
Company Name: ARTAM ENTERPRISE CO., LTD.
Contact Person: Miss Jennifer Lai
E-mail: ty102
@
artam.com.tw
TEL: +886-3-3362208 ext. 102, 103, 105
FAX: +886-3-3341127
Business Address: No.7, Alley 60, Lane 507, Zhong Shan Rd., Taoyuan

There are more products on our official website.
Please visit http://www.artam.com.tw
You can search more relevant products on the website.
Hope we can provide our service for you soon.
Payment Details
Payment Terms:TT ,PayPal
Minimum Order:3000 Sets
---
Recommendations
---
Small Order Recommendation